Throughout December it's easy to get caught up in events, catching-up with friends, and other festivities. When reflecting on what is known as 'The Season of Giving', Rutherford Cross Consultant, Mollie Rogerson and Group Operations Manager, Cesca Christophersen felt it was important to find ways to give back to the community; so they decided to 'give' something every week in December. Mollie reflects on their month of giving below.
The Big Chop for the Little Princess Trust
On the 2nd of December it was time for 'The Big Chop'! Cesca and I both cut around 10 inches of our hair to donate to the Little Princess Trust. A daunting thought, having spent around 2 years growing our hair out, the hairdressers at Medusa on Broughton Street couldn't have made the experience any better. As we sipped our coffees, the hair got chopped away, giving us both a new look just in time for Christmas.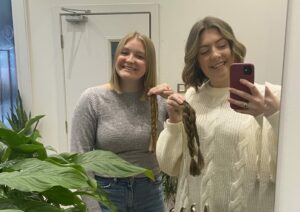 The Little Princess Trust is a fantastic charity that creates real hair wigs for children suffering hair loss due to cancer and other conditions. It aims to help restore a sense of identity and confidence to these children. Along with donating our hair, we were also able to raise over £500 for the charity which also helps fund childhood cancer research. To find out more about the Little Princess Trust visit their website.
Bethany Caring Christmas Trees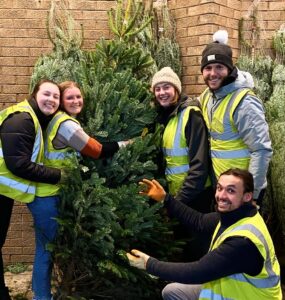 The following Friday, on the 9th December, it was time to wrap up warm and head out to Cameron Toll to help with the Bethany Christian Trust 'Caring Christmas Trees' project.
This great day was organised by Hamilton Forth's Josh Moreland, and brought together colleagues from the wider Livingston James Group to net and distribute Christmas trees for the public.  Despite the cold weather, it was a fun-filled day and really kickstarted the Festive Season. To find out more about the Bethany Christian Trust visit their website.
Donating Blood
As someone who has a big fear of needles, I was most nervous about donating blood, but on the 21st  December it was time to roll up our sleeves. Everyone at the Edinburgh Blood Donation Centre could not have made the experience any better (and the juice and biscuits definitely helped!).
Currently only around 135,000 people in the UK donate blood each year, however giving just 1 hour of your time to donate can save up to 3 lives! To find out more about donating blood, visit Scot Blood's website, or contact the team at Give Blood 4 Good.
Each year, a proportion of our Group profits is donated to the charities chosen by our colleagues the previous year. GB4G is one of Livingston James Group's charity partners for 2022 and is close to my colleague Cesca's heart. Founded by her friends in memory of the late Patrick Smith, the charity aims to promote blood donation, particularly for younger people and those who have not previously donated.
The Week of Christmas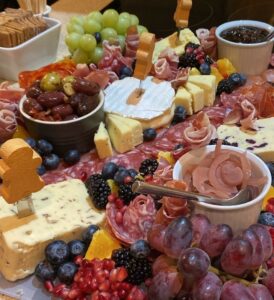 As well as giving back to the wider community, it was also great to spend some time with family. Along with many others across the globe we spent the morning of the 25th December giving and receiving gifts from family, followed by an afternoon of eating way too much turkey (or haggis wellington) and having one too many glasses of wine!
Trussell Trust Food Donation
As we entered the final week of December; having celebrated and eaten plenty the previous week, we knew we wanted to support the families who are not so lucky. Heading to our local supermarket, we stocked up on essentials (tinned and dried food, toiletries and other household essentials), and donated this to one of The Trussell Trust Food Banks in Edinburgh.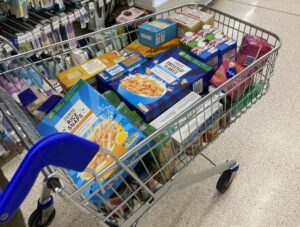 In the UK, more than 14 million people are living in poverty, including 4.5 million children. The Trussell Trust supports more than 1,200 food banks across the UK providing a minimum of three days' nutritionally balanced emergency food to people who have been referred in crisis, as well as helping people resolve the crises they face. To find out more about The Trussell Trust, visit their website.
Reflection
When we set out to give one thing each week in December, it originally seemed like a pretty big challenge, however giving as little as one hour each week can make a big impact. It was great to do this along with Cesca, providing each other with moral support; and as well as having lots of fun along the way, we found the experience hugely rewarding.
If you would like more information on anything mentioned above, or the work that Rutherford Cross and the wider Livingston James Group do to support the community, you can contact [email protected] or visit our community impact page.