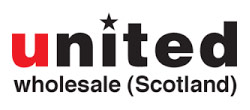 United Wholesale (Scotland) Ltd is the largest independent cash & carry operation in Scotland with sales over £230m over 3 sites with a large distribution operation, having grown by a factor of 8 times over the past 15 years.
United Wholesale supply independent retail with world-renowned brands in supplying a wide range of businesses including hotels, shops, restaurants, clubs, pubs and BB's with a large range of different food and catering products. The business cover almost any of their customers' requirements with grocery and dry goods, wines and spirits, beers, soft drinks, tobacco, cleaning products and toiletries. A significant percentage of the sales are delivered which involves orders, picking, packing and delivery.
United Wholesale also supplies over 500 Day-Today Elite, Day-Today, Day-Today Express and USave convenience stores in Scotland, supplying a fantastic range of products. These stores take great pride in servicing their local communities, providing a 'one-stop-shop' for customer essentials.
The company is seeking an experienced and commercial Financial Director to help drive the company forward in an efficient and well controlled manner, together with other key managers and directors.
This role will suit a highly motivated senior finance professional driven by the growth and the challenge this role presents. Someone who is a self- starter, commands respect and has the presence to operate effectively across the business. Applicants will have the key attributes to be able to influence at all levels both internally and externally, as the key contact for the banks, auditors and other advisors.
Click here for more information on the role: