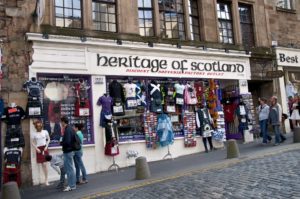 Gold Brothers is a well-established, privately owned retailer targeting the Scottish cultural sector
with a large percentage of shops based on the Royal Mile. The business incorporated in 1976 and
is a family run business led by Dildar Gold, Surinder Gold and Galab Gold turning over £20M
annually. Pre-pandemic turnover was £50M annually and now with the upturn in the market, Gold
Brothers has projections to return and exceed this by FY 2024.
Headquartered in Hermiston Gate, Edinburgh, the business has expanded both their retail offering
and property portfolio. The business has invested in residential and retail properties based on the
Royal Mile, currently sitting with a portfolio of over 20 properties, many of which are serviced
apartments.
In 2008, Gold Brothers bought GL Attractions Limited which owned the Castlehill property next
to Edinburgh Castle. This has now been transformed into The Tartan Weaving Mill, Edinburgh's
only working weaving mill. The mill produces tartans and tweeds and enables customers to create
and their own tartan designs. The Tartan Weaving Mill also offers a variety of souvenirs for
customers including Harris tweed, golfing products, cashmere and jewelry.
Gold Brothers is now looking to appoint an experienced Financial Controller who will report into
the senior management team and who has the ability to challenge senior stakeholders correctly.
This is a pivotal role to the organisation and as such it is particularly important that in addition to
the successful candidate technical ability that there is a focus on personality and team fit. The
successful candidate will need to demonstrate the ability to shape and build finance functions,
implement new processes and systems as well as bring in a level of structure and rigour to the
organisation from a finance perspective.
For more information, please visit: https://heritageofscotland.com/
To read the full job description, please click here.