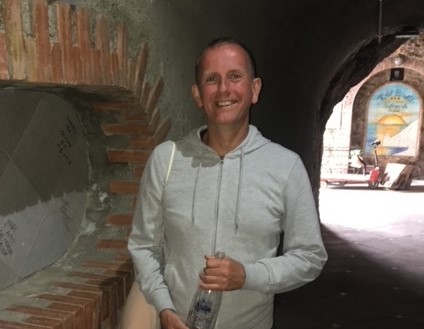 Derek Lauder joined Rutherford Cross in 2014 and now leads on Senior Finance Interim recruitment across Scotland.  Here, Derek reveals his journey to a career in recruitment, what he gets out of being a part of the Rutherford Cross team, and how he's still able to keep a hand in with his life-long sporting passion.
Tell us a bit about your education, life and career to date prior to joining Rutherford Cross.
When I left school, my dad lined me up a job with the Royal Bank of Scotland. After a couple of years, I decided it wasn't for me and went back to study a Business Degree at Paisley. My passion since I was very young has always been tennis so when David Lloyd opened their eighth UK Centre in Renfrew I stalked the Head Coach in the summer of '93 until he had no choice but to give me one of the full time Coaches jobs.  I practically lived in that Centre for six years before deciding I wanted to move into a role more related to my Business degree and recruitment seemed to fit the bill. I joined Hays in '99 and worked for them for 15 years. 22 years later I'm still very much enjoying a career in recruitment.
What attracted you to join Rutherford Cross?
I had worked with Jamie Livingston (Founder and Group CEO of Livingston James Group) for a short period during my time at Hays and we got on well and kept in touch. For much of my time at Hays I focused on working with clients in the Public Sector. I was attracted to join Rutherford Cross for a number of reasons. It was an opportunity to launch interim services to clients and candidates from scratch as the firm had not offered a dedicated interim service before. It was also an opportunity to broaden the activity and work I was doing across clients in Commerce and Industry. I felt that the firm was a lot more active in delivering Senior level appointments and in addition, after working for a large Corporate I was attracted to working with a smaller firm where my activity and output would have a more significant impact for the business. It certainly helped that I had worked with a number of the team (Jamie Livingston, Mark Lewis, and Douglas Adam) before at Hays which made the transition much easier.
What markets do you focus on now and how has your role changed during your time here?
I focus on Senior Finance interim appointments across the Central belt of Scotland and beyond.   When I first joined, I dealt with the West of Scotland only and when the team expanded in 2016, I moved to manage the team in Edinburgh which allowed me to broaden my candidate and client knowledge into the East of Scotland. In 2017 I then moved into a role leading on all things interim for the brand which whilst being a non staff management role is still a leadership role within the business, and I sit on the Management Team for Rutherford Cross with my colleagues Mark Lewis and Hazel Wynn. I now focus on interim appointments from a £60,000 p.a. level and above and very much enjoy working with the Rutherford Cross team in our pursuit of being the best Senior Finance specialist recruiter in Scotland.
How would you describe working at Rutherford Cross and Livingston James Group overall?
It's a lot of fun with a fair amount of hard work too. There is a huge benefit of working in a team that has so many experienced and first-class Consultants. I always say that you can't do this job as effectively on your own. Our candidates and clients might be buying a Consultant to support their search or their vacancy but behind the service being offered we are all helped by a brilliant network across the whole Group that has taken years to build up. This network is vital to us identifying talent for our vacancies and also in generating new opportunities and new clients.
Working alongside such a strong team also helps with your own development as you get to see what excellent looks like every day and there is always someone to lean on to get the right answer when a difficult situation arises. We all support each other which is great.
When I first joined the business, I thought I had joined an Events Management company. I couldn't believe how active the firm were in running high quality, career-supporting events for our clients and candidates. There is also a lot of emphasis put on our values and the whole firm were involved in the resetting of our purpose last year which is centred around realising potential. Finally, CSR is also an important part of working here. Every one of us gets two CSR days per year to give our time on a voluntary basis to whatever cause that is important to us. A number of my colleagues mentor disadvantaged children, sit on charity boards or support communities in a variety of other ways.
What have you learned during the pandemic that you'll take forward into the future?
That I can adapt and change. Across the Group we have always been encouraged to run events and write thought leadership pieces. Since lockdown started last year, I have organised and run 11 online client or candidate events either by myself or with colleagues and have written 12 online articles. I have also come round to and am starting to enjoy remote working although I am looking forward to spending some time back in the office soon. I'm going to miss my dog Lily on those days though! I've also learnt that it is wise to pick your battles and that silence is golden.
How has Rutherford Cross enabled you to explore new opportunities, and what does your own development look like within the firm in future?
Working at Rutherford Cross has been a great experience for me. There have been ups and downs but many more ups. My time at Rutherford Cross has allowed me to build up a track record of Interim Financial Director and Financial Controller appointments that I am proud of. I have helped organise and run events that I would not have had the chance to do almost anywhere else.
The event highlights have included convincing Lynn Brown when she was Director of Finance at Glasgow City Council to be one of our Next Generation CFO speakers, and also securing Leon Smith, GB Davis Cup Captain, to headline a number of events for us over the last few years including Business Breakfasts, online workshops, and even an on-court Tennis Coaching event for our clients at Gleneagles Indoor Arena in 2019. Working in partnership with my colleague Hazel Wynn, we have built a strong interim business and interim candidate community in part through the running of our Interim Roundtable event series.
With the firm encouraging us all to be not only the best Recruitment Consultant we can be but also to be a Business Advisor and Leader too I have been fortunate to hold the post of Non-Exec Director with Tennis Scotland over the last three years.
My own development will be linked to the growth of interim for RC primarily, but I also want to support the growth of interim recruitment across the Group. This involves continuing to identify future talent for the firm whilst also building on my existing network who very kindly support the firm with vacancies and candidate referrals. I hope that Rutherford Cross and LJG will lead the growth of interim services across Scotland as the benefits become more widely known to both clients and candidates alike.
Beyond the consultant role, what else do you get involved in within the business?
I get to lead on interim initiatives for Rutherford Cross and across the Group too where possible. These include the recent IR35 Transition earlier this year, improving our Agency Payroll offering to our Contractors, supporting the business in identifying potential new Consultants, writing and submitting tenders for contracts to supply new and existing clients, and I also support our Finance Manager on a weekly outstanding debt call.
I'm always keen to broaden my influence and develop where possible. An additional highlight of my time with RC has been the Annual CSR Charity Fundraiser. It's usually a physical challenge. I haven't been back on a bike since doing Coast to Coast in 2016 and the Arran Challenge in 2017. I'm still traumatised although they are both lifetime memories!
I really enjoyed the Marie Curie challenge we did in 2019 where we set up in one of the shops and tried to maximise sales for a day and last year's Virtual North Coast 500 was really helpful when we were in full lockdown. It gave us all something to focus on and collectively we raised money for Good Morning Service in Glasgow. I'm looking forward to our Munro Challenge this September coming and hopefully raising some money for Marie Curie, Alzheimer Scotland and MacMillan.
Outside of work, what do you like to do?
I still hack about a tennis court; it gives me great physical and I'm sure mental health benefits and a lot of my friends have come through playing the sport. I enjoy watching football too, sometimes… I love listening to music, I'd like to think I've got a broad taste from 80's, Indie, Punk, Rock and Jazz through to Classical. I've still got an obsession with The Sex Pistols, just can't quite shake it!
I do also like travel and where previously I would go to France, Spain, Italy and Greece, I have rediscovered an appreciation of Scotland. I used to go to Arran a lot but have enjoyed visits to Harris and Mull this year with a trip to Islay and Jura planned later this month too.
For more information about careers at Rutherford Cross contact [email protected]