After a three-year sabbatical we were delighted to host our annual charity football tournament on Friday the 17th of June, raising an impressive £2,910 for Marie Curie.  On the day we were lucky that the sun came out just as we were due to kick off and there was a genuine feel-good factor in bringing together the finance teams of a range of businesses from across Glasgow to partake in some healthy competition.
This year our format was two groups with the first and second placed teams in each progressing to the semi-finals. We were delighted that, for the first time in the event's history, Rutherford Cross managed to make it past the group stages!
The standings from the Group stages were:
Group A
1 Rutherford Cross
2 Gallagher
3 Arnold Clark
4 Loch Lomond Group
5 Whyte & MacKay
Group B
1 Loganair
2 ScottishPower
3 Aggreko
4 City Facilities
5 Grant Thornton
6 French Duncan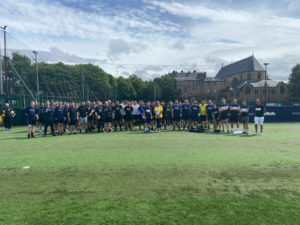 Reigning champions, Loganair overcame former champions Gallagher in their semi-final and ScottishPower came from behind to beat Rutherford Cross to progress. The final itself was a tense affair decided on penalties, with both goalkeepers putting in heroic performances, however it was Loganair who prevailed over ScottishPower to retain the title for another year.
Having been prevented from running these types of events for a couple of years, it was great to see so many teams stay on afterwards for a drink and a bite to eat, enjoying the company of their teammates and counterparts.
We would like to thank Powerleague for putting on a great service on the day and once again we would like to thank the generosity of the businesses and individuals who made donations to Marie Curie, helping them to fund the expert care and guidance to those suffering from terminal illness.  We would also like to thank Georgina Bushell from Marie Curie who gave up her time to educate us on the great work carried out by the charity.
We look forward to hosting the event again in 2023 and who knows may be team Rutherford Cross may go one step further next time.
To find out more about this and other Rutherford Cross events, contact [email protected]