Last week Rutherford Cross hosted its latest Planning Your Career Journey event online. We were pleased to welcome Adrian Barsanti, Head of Audit – IT, Change & Data at TSB Bank, Jennifer McVey, Group Head of Internal Audit at Baxters Food Group and Ranald Brown, Director of Assurance at Wheatley Housing Group.
Each of our speakers shared their own career journeys with our audience and highlighted the approaches that had allowed them to progress to the roles they hold today.  Here is what our first speaker had to say:
Adrian Barsanti, Head of Audit – IT, Change & Data at TSB Bank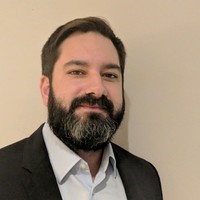 Adrian likes the outdoors, he is massively into mountain biking, rugby and car racing.  He described an unusual entry into the world of IT Audit, graduating in Aerospace, but then moving across to information technology, joining a Big 4 firm and then developing his career with Credit Suisse, Investec Asset Management, Sainsbury Bank and TSB Bank where he is part of the Assurance leadership team.  For each move, Adrian considered what he actually wanted to do – he places a lot of importance on taking time to reflect before jumping for opportunities that might not be right.  Adrian knows that he likes to work for organisations where he can "touch the sides" and where the culture and values suit his own.
The Importance of Technology
Adrian spoke passionately about the importance of technology and how today provides a perfect example of this given that it has allowed us all to work remotely, and service customers remotely.  He stated that "for any organisation technology and the continuously evolving digital arena is fundamental".  TSB is moving towards a "self serve" customer model and to enable this convenient way of banking, assurance is absolutely critical.  However, Adrian pointed out that an assurance function is not there to be the police – you must work with the business, and in doing so always acknowledge the need for talent development within your teams so that they can hope to achieve credibility from the stakeholders they interact with.
Business Partnering as an Auditor
Adrian places a huge amount of importance on understanding what a business does on a day to day basis – learning "business speak" and encouraging organisations to share information have been hugely important to his ability to build credibility.  He also highlighted how important it is to have a good team and good people around you.
Key Learning Points:
Relationships are key: external and internal, colleagues – past and present
Know your stuff: make sure you understand what you are talking about and who you are talking to – this will build trust
Self understanding: know what you're good at and what areas you need to develop, not only from a technical perspective
Reflect on your role and whether you are still being challenged: if it feels too easy it might be time for a change – stay relevant
Understand the power of having a good team around you and above you!
Enjoy what you do
To find out more about Rutherford Cross events, or to discuss your internal audit recruitment needs, please contact [email protected].