Rutherford Cross recently held a boardroom lunch with Graeme Bissett to discuss how CFOs can make the move into the role of a Non-Executive Director.  Mark Lewis looks at what our audience took away from what was an insightful and inspiring discussion.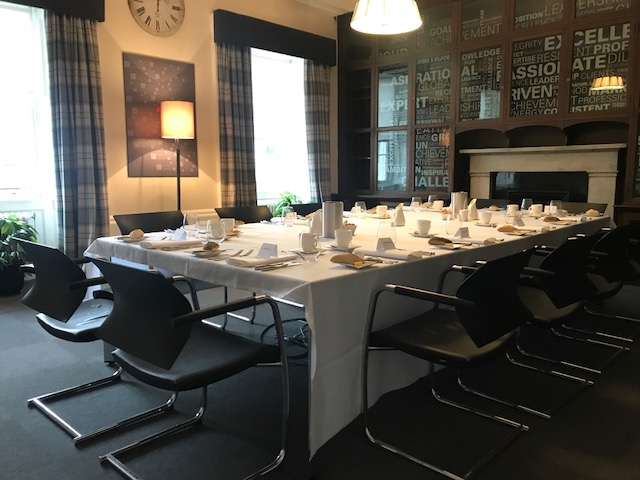 We were extremely fortunate to have Graeme Bissett join us as guest speaker at our boardroom lunch.  Graeme is a hugely experienced corporate financier and qualified chartered accountant, and was finance director of Kwik-Fit holdings PLC before focusing on a portfolio of boardroom appointments from 2003 including; Macfarlane Group PLC, Cruden Group Ltd, Black Circles Holdings Ltd, Aberforth Split Level Income Trust PLC, Scottish Futures Trust Ltd, and most recently Smart Metering Systems PLC, as well as a number of pro bono appointments, including as Chair of Children 1st.
With his considerable boardroom experience, Graeme briefly discussed the role of the NXD and the attributes required to make the role a success – namely relevant sectoral experience, strategic clarity, and a firm but personable style.  He highlighted the importance of the NXD's role in supporting executives in making good decisions, as well as helping them to steer away from potentially bad ones!
Graeme focused on three key areas over the lunchtime discussion:
How can NXDs support good executive management and help teams succeed?
What can a finance professional bring to the role?
Will you enjoy the role?
Helping good teams to succeed
Graeme advised on the importance of providing strategic clarity.  Executive management invariably have a deep understanding of their markets, competition, the strengths and weaknesses in the business, however, it is often the case that they can be 'too busy chopping down trees to sharpen the axe'.
Graeme added that often, non-execs can bring a dispassionate but knowledgeable eye to boardroom discussions on topics that an executive may have been battling for a considerable time.  Having a distance from the business, coupled with significant knowledge and experience can allow the NXD to guide the executive in a direction that may not previously have been apparent.
Once strategy has been agreed, it is essential that the NXD continues to ensure that ongoing decisions are aligned & support the strategy, or if not, that revisions are a genuine response to conditions rather than 'strategic tourism'.
What do finance professionals bring to the role of NXD?
Finance professionals have an impressive list of skills and qualifications that without doubt can add value to a business.  How might those skills be valuable in a non-exec role and what are the additional skills needed in a NXD?
Influencing – an NXD does not have direct authority over Board colleagues, non-exec or executive, the ability to influence therefore without authority is key.  As a CFO or equivalent you mostly need to influence colleagues and their teams over whom you've no direct authority so are already well practiced in this area.
Pinpoint the Issue – the ability to get to the heart of an issue through business knowledge coupled with methodical interrogation of information is essential.  In the average three-hour board meeting with a normal sized board of six or seven people, you will have the floor for no more than 10-15 minutes, you need to have prepared; do the homework, get to the issue, and be succinct. This is a key skill that the best finance professionals can bring to the table.
Broad business knowledge – as a finance professional, you will have sight of all aspects of the business in your executive role. Your management focus may currently be financial but you will have wider knowledge and insight in many, if not all, parts of the business.  That experience, of the full range of the business is invaluable as a NXD.
Why would you enjoy the role of NXD?
Graeme advises self-evaluation before considering taking on an NXD role.  Ask yourself the following questions:
What do you want out of the experience?
Are you looking for a familiar or new sector?
Do you want a commercial, public sector, or charity role, and if the latter, what causes?
Do you want to work with a large company where the role is more formal, (governance and strategy validation), a developing company where there is more direct/hands on guidance to management & possibly input into the strategic direction of the business?
Are you prepared to take on a challenge? For example, a company in some stress, undergoing rapid growth or where there have been relationship issues, board changes, etc.?
Graeme also counselled on the importance of considering the professional relationships with the people you will be working with.  It's not a question as to whether you will enjoy dinners together or attending sporting events. As an NXD you need to remain personable but professionally detached. Trust is an absolute prerequisite – if you have an uneasy feeling about any of your colleagues, treat that very seriously – instincts will rarely be wrong.
Graeme provided a real insight into the role of an NXD and how a finance background can give an excellent grounding for this challenging but rewarding role.  It was interesting to hear him remark that many of the NXD 's he holds in highest esteem are also qualified CAs – an encouraging sign for those considering the role of NXD as the next step in their CFO/FD career.
To find out more about Rutherford Cross and our events programme, or to discuss your recruitment needs contact [email protected]