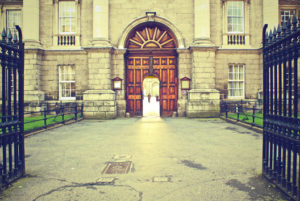 International recruitment, especially in these still-challenging economic times, can be a trying task for any seasoned recruiter. It is important to keep on top of the knowledge of how each market is recovering from the global recession and educate potential candidates accordingly.
One location that is beginning to see positive economic growth and subsequent international recruitment requirements is Ireland. Historically, Ireland was one of the top locations for international candidates. Here, International Tax Recruiter Kasia Mackie of Rutherford Cross explains how the Irish market has changed and why it should once again be a top location.
Why is Ireland such a 'hot' location at the moment?
The global economic crisis hit Ireland hard. However, it is emerging as a strong country that has learned from its mistakes. After the EU bail-out in 2010, the corporation tax system was changed to make investing in Ireland more attractive. This has resulted in large multinational companies setting up their European headquarters in Ireland, and some have even up-rooted from previous tax havens such as Switzerland.
It's an extremely exciting time in the Irish market at the moment. They now have companies such as Facebook, Twitter, Google, Amazon and Paypal using Ireland as their European headquarters. This certainly makes the professional aspect of relocating to Ireland more attractive as these are the types of big brand names to which you can gain exposure.
How has the Irish economy grown over the last few years and what are the projections for the future?
The Irish economy has suffered through the global economic crisis and there have been some false starts over the last couple of years but recent figures indicate that recovery is well under way and it is one of the few countries in the Eurozone that has projected growth and stability over the coming years. Along with Germany, Spain, Portugal, and Italy, Ireland is showing signs of continual growth whereas countries like France and the UK have reported disappointing figures and future projections.
Latest reports indicate that international confidence in the Irish economy appears to be firming. Many large US-based multinational businesses are investing in Ireland as their European headquarters. Many other factors are contributing to the growing strength of the Irish economy as unemployment levels have fallen to their lowest level in more than five years, property prices have recently began to rise and Irish exports have increased due to the growing strength of other markets. The Irish economy does have some way to go for a full economic recovery. However, good improvements have been made and the future is looking for bright for the Emerald Isle.
How has the tax and transfer pricing developed or changed in Ireland?
Ireland has always produced highly experienced tax professionals, partly because of their education and training. However, one key factor that has changed with the transfer pricing experience in post-recession Ireland is that it has been rather left behind by the rest of Europe. The system is a little less mature, which makes transfer pricing opportunities in Ireland quite exciting from a developing point of view rather than complexity.
Gaining experience in Ireland now will be a similar challenge to gaining emerging market experience. However, you won't have to sacrifice things like the lack of infrastructure to achieve this as Ireland is a developed location. Gaining transfer pricing experience from Ireland will be thoroughly rewarding as all professionals will be able to utilise their knowledge to pull the system up to the rest of Europe's standards in addition to moving forwards as new BEPS recommendations are rolled out over time.