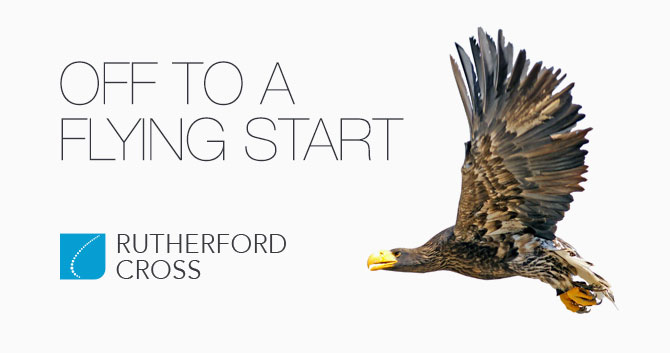 Growth in world markets and a hike in global demand for the best available talent have led to Rutherford Cross, the specialist search firm for senior finance appointments, making a strong market debut with revenue way ahead of expectations in its first six months and an already established international reach.
The firm, which works with leading organisations in Scotland and around the world to source the highest-calibre professionals, has billed £318,000 in its first six months of trading and is forecasting revenues of close to £1 million for 2014.
In global activity, three of the six-strong Rutherford Cross team are now focused exclusively on markets outside the UK. Business has been transacted in Germany, Thailand, Switzerland, the Caribbean and the Channel Islands and assignments are underway in the Netherlands, South America and South East Asia.
Mark Lewis, who led the start-up of the Scottish practice at Rutherford Cross, said: "We have assembled a strong, uniquely talented team with a remarkable breadth of experience in the sectors on which we are wholly focussed.
"They have hit the ground running and the impact in our sphere of influence has been remarkable. They have established immediate, durable contacts with chief finance officers and finance directors across sectors ranging from professional services through fast-moving consumer goods and oil and gas to early stage tech companies and life sciences."
"The team's early success is contingent on its global reach, its functional specialism and its emphasis on best practice in search and selection. I foresee even greater achievement ahead."
Rutherford Cross is the finance specialist within the Livingston James Group, the market-leading portfolio of executive search and leadership advisory businesses which provides services to some of the world's most successful organisations.
The quality of its team ensures a world class standard of service to both clients and candidates in fields including tax and treasury, audit and assurance, advisory, commercial and financial analysis, financial and statutory accounting, financial leadership and control and temporary, contract and interim appointments.
Its service is built around the specific requirements of its clients, ranging from full-scale international search and advertised selection to sourcing contract professionals and delivering discreet market benchmarking.
For further information about Rutherford Cross, contact Glasgow: +44 (0)141 611 7770 or Edinburgh: +44 (0)131 603 8111. [email protected]. International: +44 131 603 8111. Visit or email [email protected].
For further information about the Livingston James Group, contact Jamie Livingston or Andy Rogerson at 218 St Vincent Street, Glasgow G2 5SG, tel: 0141 375 7333 or 69a George Street, Edinburgh EH2 2JG, tel: 0131 220 2209. Visit www.livingstonjames.com