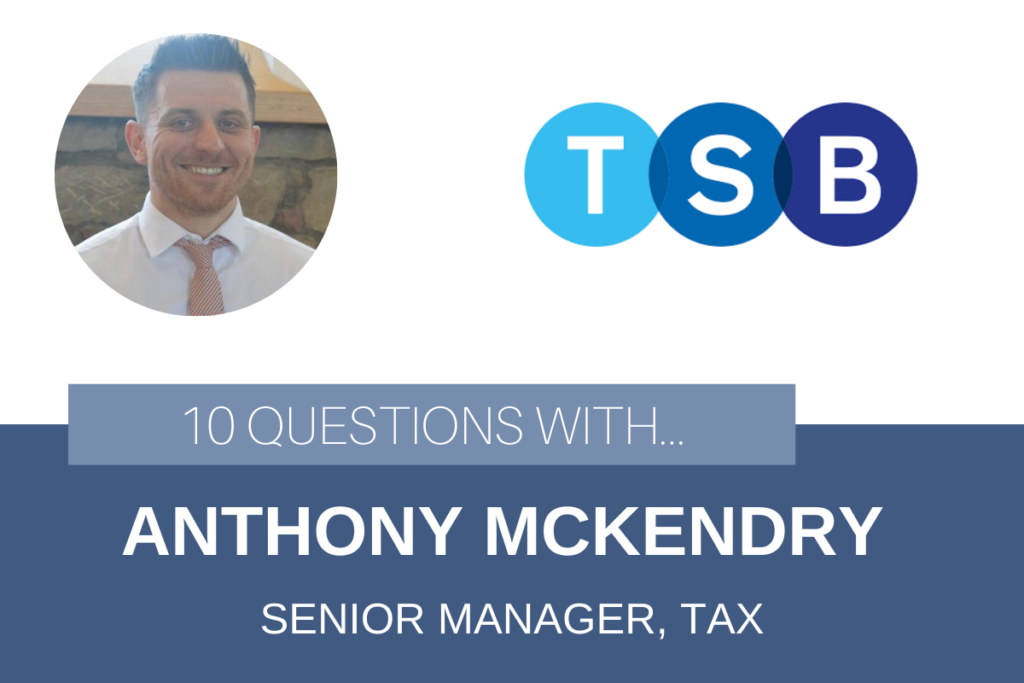 In this latest instalment from the Rutherford Cross' "10 questions with" blog we hear from Anthony McKendry, Senior Manager, Tax at TSB.  Anthony shares his experience of moving roles during the pandemic, from an indirect tax role in the energy sector to a broader tax position in financial services.
What does a typical day look like for you?
Having my morning coffee whilst catching up on emails and gathering my thoughts/agenda for the day is how I typically start my day, together with some degree of catch-up with the others in the Tax team. My role is quite varied and allows me to mix-up my day, but I try to have a balance between enough TEAMS calls for interaction and time to progress much of the work that needs delivered.
What attracted you to join TSB?
TSB is rooted in helping create social and economic value. The commitment to doing what matters resonates with me together with TSB's commitment to a diverse and balanced workforce. The working environment is open and transparent at TSB and helps create a genuinely collaborative setting.
Although your role is Indirect and Operational taxes, you are covering all taxes to a degree, what advice would you give people wanting to do something similar?
Throughout my career I have always worked across a variety of taxes and have genuinely enjoyed this. Don't be afraid to mix it up and delve into something different as it helps give a real grounding in Tax. Working in-house probably allows for that more naturally as resources are often more limited.
You joined TSB during the pandemic / lockdown.  How did you find moving careers in a remote world and what advice would you share to those who will be doing the same in the short-term future?
I believe TSB did a fantastic job of onboarding me during the first lockdown and it allowed me to settle into the change in corporate environment at a good pace, especially after almost 12 years with my last employer. The biggest challenge for me was establishing relationships, which you could build much more quickly before the pandemic. You must use the technology available to establish rapport and I quickly joined groups/forums to integrate myself into the wider team – gone are the days of chatting at the kettle/water fountain.
How have you found the industry transition from energy to financial services?
Several years ago, I would likely have been much more apprehensive about such a transition, but I was quite relaxed about it and have enjoyed the change. Organisations are increasingly diverse in their operations and causes you to learn different aspects of tax 'on the job' which helps prepare for a change.
What defining career moments have there been for you so far and what career advice would you give yourself when you were younger if you could?
I had a conversation on succession planning over pizza and a beer with one of the best leaders I have ever worked with, which firmly put me on my career path. Had this conversation not happened then who knows what path my career would have taken but this one feels right.
Leaving university, I had an idea of how my career would be and realised quickly that is not how the world works. I would tell my younger self to believe in a more fluid career, one that will not only develop as I mature but also be one that is right for me.
How would your colleagues describe you?
Hopefully they would say I was approachable, supportive, dedicated, organised and focussed on delivery.
If you could invite two people to a dinner party (living or deceased) who you choose and why?
Just two? I love Prince's music and all the stories you hear of him suggest he would have been an entertaining guest. Hillary Clinton would be another, to hear who the real power in the 1990s White House was, the scandals she was involved in and the glass ceilings she has smashed along the way. She could also help you with picking yourself up after a sore, heavy defeat.
What is an interesting fact that people may not know about you?
I am on a charity CD playing the trumpet to a cover of the Jackson Five's 'I'll Be There'.
If you were not in Tax, what would you be doing (for a career)?
I almost studied Maths at University instead of Accountancy and Law, so either that or some form of engineering.